Are you want to know how deep is your love? No doubt this is one of the most difficult questions faced by every couple in their relationship and sometimes it is difficult to prove to someone how deep is your love?
Firstly you need to understand are you really in with love someone or not, if your answer is yes then it's a good sign but what you do if you are not sure you really love someone, so how can you prove that how deep is your love.
To confirm that are you really love your partner or not and how deep is your love, you need to ask a few questions to yourself first, which tells you the truth.
1. How do feel if you are away from your partner?

Are you feeling nervous, sad, depressed, lonely, and upset? Are you thinking about your partner, what are they doing at this time.
If you are facing these types of problems, it simply means that you are lack of security in your relationship because true or a deep love all about being happy, peaceful, secure & fulfilling.
So you need to work hard on your relationship, so you can prove that how deep is your love because feeling upset or uncomfortable is not a true sign of love.
2.What do you think and feel about your lover's dream & goals?
If you happily support or having no problem motivating your partner, dreams, goals, and support their family in any situation.it simply means you deeply love your partner but if you are not feeling comfortable accepting your partner's dreams, family, and career, it shows you are tense and feeling suspect in your relationship.
This only shows your love is not mature yet and you definitely face this type of problem in your future relationship. When you truly love someone, you accept & support everything related to them like their career, dreams & family.
Also Read: How To Manifest A Relationship In 5 Easy Steps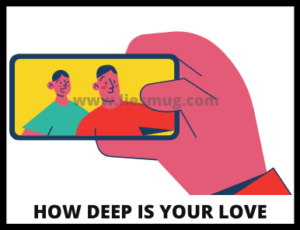 3.How do you react if your lover lost their job someday?
Ask this question to yourself that how you react after knowing that your partner is lost their job, do you feel upset or angry with them? Do you are able to support your partner financially or this situation make your relationship strong or break your relationship.
Under this situation, if you react positively and support your partner emotionally and financially, this really shows how deep is your love and trust to your partner.
4.Do you really trust your partner?
This is the big question which really tells about you, how deep is your love with your partner. If you really love your partner you can trustful, respectful, and very supportive in nature and also engage them in every part of your daily life.
Do you trust your partner's value and tradition, if yes, then it simply means you love your partner so much and you are very honest with your partner?
5. Do you want to see old yourself with whom you love?
Are you ready to grow old with a person whom you love? Do you want to lose your beauty and want to live after retirement? If all questions answer is yes, then it shows how deep is your love.
How you deep love looks like when you spend your whole life caring for your partner, support them in every situation, and dreaming for a healthy relationship forever. When you are ready to do anything for the smile of your partner and ready for any sacrifice. If you do all these things in your relationship on regular basis, no doubt it only shows how deep is your love and you are a role model for others.
Also Read: What is Romance In A Relationship In 9 Easy Steps
How deep is your love ( Tips & Warning):
When two people fall in love and they say I love you forever, but saying is not enough, you have to prove to yourself how deep is your love by taking actions.
One of the biggest reasons why people do not find that their love is deep for their partner because in this relationship they don't find their expectation is fulfilled. They feel nervous after watching that their partner is not keeping their promises and not love them.
If you really want a deep love in your relationship, firstly you need to start loving and self respect yourself, then you are able to love others.
Also Read: How To Get Her Back Before Its Too Late ( 6 + Points)