Dating do and dont's rules really help you increase your success chances. No doubt dating is full of excitement and fun but what happens if you connect with a wrong person and you will face problems in life.
Before dating remember one thing that dating and uncertainty going hand to hand, this is a hard reality of dating but by the following dating do and don't's you easily solve this problem confidently.
To make you help out and make things easier, you must follow dating do and don't's while dating someone.
Dating Do And Dont's Checklist:

Top Dating Dont's:
1. Never lie on your date:
Never misguide or lying to someone about your lifestyle, education, income, and what you do. Remember one thing wrong things sooner or later comes in eyes of another person, than you found yourself guilty or a dishonest loser and it will also spoil your relationship.
2. Avoid smoking or drinking:
Always avoid smoking and drinking on your first date, what impression you put the person whom you date, so if you are really serious to date someone successfully, so improve your bad habits and avoid smoking or drinking.
3. Never try to chase the person:
Be like a gentle person, don't call or text someone again and again, if the other person is replying to you over phone and call. Call or text them once a day is enough. Your this mistake maybe create a bad impact on another person's mind.
4. Do not flirt others while dating someone:
If you are really serious about a marriage partner, so keep in mind that just focus on one person at the same time, never try to be over smart. So it is advisable for you that avoid flirting others while dating someone.
5. Don't try to be physical or having sex:
Never try to be sex or physical to someone until you don't trust others. If you not take it seriously and taking dating only as a fun thing then you doing a big mistake.
6. Be Secretive:
Be secretive is simply means that never share everything on your first date, keep a few things secret. If you share everything about you may be the person may not feel show interest in you for the next date.
If you try to be secretive, avoid sharing too much personal information then there is a chance maybe the other person also shows interest for the next date with you.
7. Don't be late for a date:
Never be late for a date, be right on the time. People don't like to wait for someone. So be reached on the right and make a good impression on another person.
8.Never date a person, who you think will use you:
Avoid sharing all things about you, if you think a person is trying to use your money and show hurry in physical with you. Stop that person and stop all ways of communication with them.
9.Avoid talking about your past relationship:

Avoid taking about too much about your past relationship, if you constantly talking about your past relationship, it indicates that you are not ready to move on from your past relationship and another person is not taking you seriously.
10. Don't talk about marriage :

Remember it is your first date, so avoid talking about marriage, focus on to know each other very well, and take some more time to think about each other than make up your mind for marriage.
Also Read: First Date Tips For Beginner (Best 15 Dating Tips)
Top Dating Do's: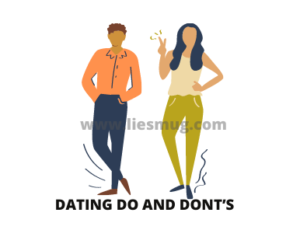 1. Be positive:
Avoid negative attitude always looks like a positive person. People never like a negative person. Don' t complain your date. If you think positively, then positive things will happen to you.
2. Don't take to much stress:
Keep your first dating as simple as possible, don't take too much stress about it. Just talk normally and focus on the things which make you happy and spend a good time together.
3.Focus on your looks:
No one likes a messy person who is not well-groomed, so focus on your personal hygiene before attending your first date. If you look good then you make a good impression on your dating partner.
4.Well dressed:

Dating plays a very important role in someone's life if they are date, someone, for finding a marriage partner. If you are going to date someone makes sure, you should be well dressed.
5. Compliment your date:
Compliment your date is simply means that you find good points about dating and behave well with your dating partner. Avoid a focus on odd things in your dating, you need to focus on the good things only.
6. Listen first:

Listen your dating partner first is a good sign of dating. If you listen honestly to a dating partner, then it makes a good impression and they realize that you are serious about them and give importance. And the other benefit is you got a good chance to understand others.
7. Be proactive:
Always follow a proactive approach while dating. If you follow a proactive approach it helps you look confident and more interested in this relationship. Start you dating in a good friendly environment.
8. Be creative:
Try something different to impress your dating partner, show some creativity and plan your dating something different, go for bike riding, swimming, horse riding, or in a museum where you enjoy and talk to each other in a quiet environment.
9. Be honest:

As you know honesty is the best policy, so always try to be honest, no matter what is the time or place. Never fear about that what your dating partner is thinking about you. Speak the truth because truth never gives pain to someone. If you are honest, later or sooner your dating partner realizes this thing, and maybe they interested in you for a better relationship.
10. Let know others that you are dating someone:
Keep in mind that you share this thing that you are dating someone, so your family and friends keep you motivating and helps you to make your matchmaking.
Conclusion:
After reading the checklist of Dating do and dont's, now you have a good idea, what things make your dating successful and what things make your dating unsuccessful.
Be honest, positive, and passionate about the person whom you date, surely you get success into this.